A Nazi Success?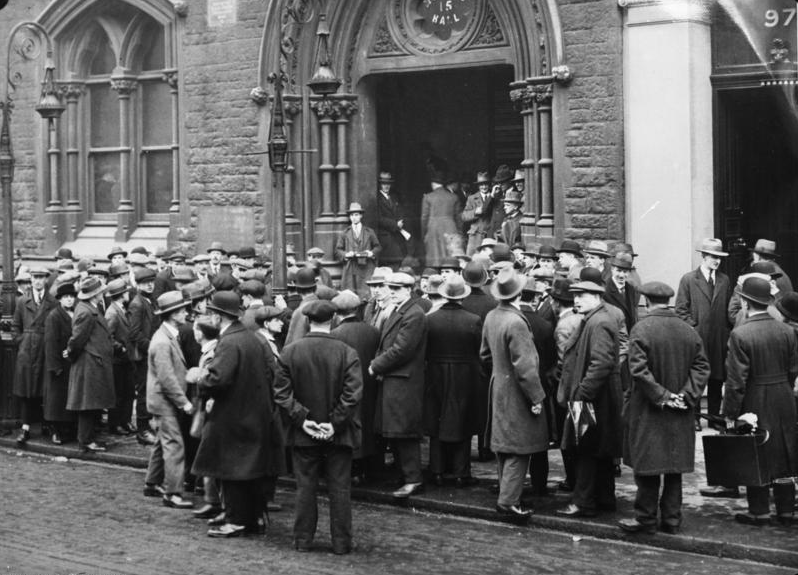 When the stock market collapsed on Wall Street on Tuesday, October 29, 1929, it sent financial markets worldwide into a tailspin with disastrous effects.
The German economy was especially vulnerable since it was built upon foreign capital, mostly loans from America and was very dependent on foreign trade. When those loans suddenly came due and when the world market for German exports dried up, the well oiled German industrial machine quickly ground to a halt.
The Downfall
As production levels fell, German workers were laid off. Along with this, banks failed throughout Germany. Savings accounts, the result of years of hard work, were instantly wiped out. Inflation soon followed making it hard for families to purchase expensive necessities with devalued money.
Weimar Failure
The economic collapse of 1929 had dire effects on Germany. By 1932 two-fifths of the German workforce, or some six million people, were without a job. This resulted in many German voters abandoning their support for mainstream and moderate parties, instead voting for radical groups. It is unclear how much of this was genuine support for these parties and how much was a protest vote - but whatever the reasons, the NSDAP recorded significant increases in Reichstag seats in 1930 and July 1932. This propelled Adolf Hitler into the public eye, first as a presidential nominee and then as a potential chancellor. Without the miserable conditions created by the Great Depression, Hitler and the NSDAP would likely have remained a powerless entity on the margins of Weimar politics.